1845 William Ewart Gladstone – named Gladstone "Port Curtis"
1860 Customs House built
1864 First school built
1880 Gladstone Observer& Port Curtis Advertiser begun publication
1885 Gladstone's first wharf built
1896 Gladstone Meat Works opned its doors – Gladstone depended on Swifts meatworks for employment up until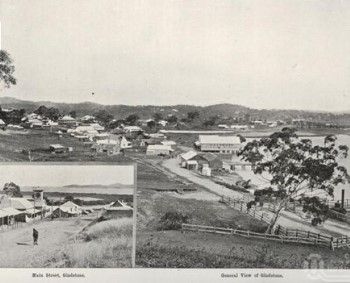 the 1960's
1897 Wharf connected to Brisbane by rail
1901 Census shows Gladstone/Calliope district has 3007 people
(Photo Caption – Right: General View of Gladstone and main street – 1901)
1906 Port Curtis Dairy Cooperative commenced
1929 Goondoon and Auckland Streets received first bit of bitumen road
1950 Gladstone population 5000
1960 Gladstone population 7288 (Photo Caption – Below: Goondoon Street 1960's)
1961 Gladstone remained relatively small port serving the local cattle industry until the export of coal from the Moura fields resulted in a huge increase in both population and port activity
1962 Swifts Meatworks shut down
1963 Calliope shire population is 3500
1963 Queensland Alumina Refinery (QAL) announced, creating an atmosphere of hope and excitement, Gladstone was not prepared for what was to come (peak workforce 2800)
1964– 1967 QAL Stage 1 Construction – In the next five years Gladstone's population nearly doubled with construction workers and their families. Local infrastructure could not keep up with the rapid growth and many social problems arose due to living conditions and soaring prices
1967 Production at refinery began & by 1973 two expansions had made it the largest alumina refinery in the world
1967 First phase of Gladstone Power Station commissioned and eventually generated over half of Qld's power supply
1970's Gladstone reached a situation were one in four people lived in a caravan park, the local Council has to introduce by-laws to allow temporary accommodation in the local showgrounds, while the Boles Street caravan park has 1250 people living almost on top of one another.
1979 In December, Gladstone's population is 26,250
1980Ray White Gladstone commenced (previously known as Allen's Real Estate) – the Gladstone office was the first Ray White office franchise outside of the White family – there are now over 1000 offices worldwide
1980 Clinton coal 'Reg Tanna' facility developed
1981 Reports show multilevel buildings are "going up all over the place"
1982 Boyne Aluminium Smelter commenced
1990's The coal industry boomed, giving Gladstone another boom in property prices
1990-1994 New housing estates of Seaview Heights, Golf Course Estate and Telina are developed, becoming the most popular areas of Gladstone
1996 Third pot line of Boyne Smelter
2003 Rio Tinto announce Yarwun Alumina Refinery – thousands of people move into Gladstone
2003 An enormous hail storm hits Gladstone causing immense damage to homes. Repairs take 2 years to complete due to shortage of tradespeople
2004 Aldoga Alumina Smelter announced. Fails to proceed
2007 Rio Tinto announce Yarwun Stage 2 – thousands of construction jobs created
2008-2009 Global financial crisis – Gladstone property prices remained relatively steady
2009 Gladstone Pacific Nickel backed by Clive Palmer announces Nickel Processing Plant
2010 Boulder Steel announces plans to develop a steel plant north of Gladstone
2010 BG Group announces a 2 train LNG plant to be built on Curtis Island. For the next year Gladstone has booming property prices, with $100B worth of projects in the pipeline
2010 Origin Energy and Santos announce LNG facilities (Photo Caption: Curtis Island LNG Construction Sites, 2012)
2011 Wiggins Island Coal Terminal begins construction
Dec 2011 Sixty workers have moved into a workers camp on the QGC Curtis Island LNG project. GLNG plans to move fifty workers in by late January. By late March it will house about 288 workers. GLNG's camp will have a final capacity of about 2100.
Oct 2013 The all new Gladstone Entertainment and Convention Centre opens its doors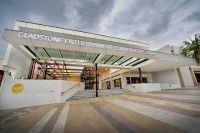 Dec 2013 Completions of hundreds of new high rise complex apartments
Dec 2013 Gladstone has received a boost of confidence with the Federal Government announcing environmental approval for the multi-billion dollar Arrow Energy LNG facility. A final investment decision for the construction of the plant is expected in the first half of 2014.